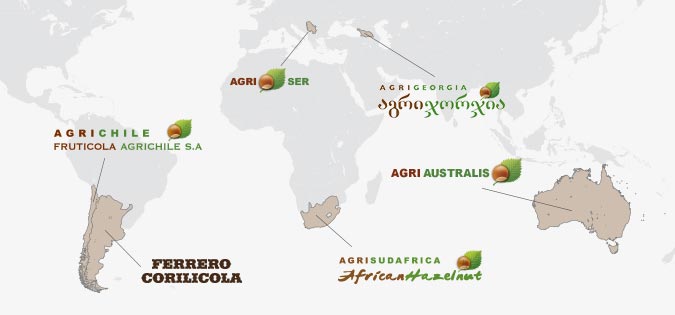 THE HAZELNUT COMPANY
Over the years, Ferrero's expertize within the market of hazelnuts has constantly grown and the company is engaged to ensure that this expertize is passed throughout its supply chain and across all business areas.
Furthermore, since the early 90's, the Group has undertaken many initiatives promoting a sustainable, responsible and profitable integration between the confectionery and agricultural industries, with deep focus on quality improvement. In particular, it has promoted hazelnut cultivation in 6 new regions: Chile, Argentina, Georgia, South Africa, Australia and Serbia, where Ferrero has established fully owned hazelnut farms (the Agrifarms). Through this initiative, Ferrero is developing a sustainable business model with local farmers by sharing and promoting good agricultural practices (nurseries, training, agronomic assistance, etc.) together with long-term partnership agreements.